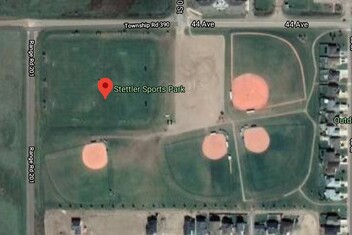 Stettler Sports Park
Located on the south-west corner of Stettler, the Stettler Sports Park is a great hub for all community gatherings. The Stettler Sports Park hosts 4 fenced baseball/softball diamonds, two soccer fields and seating areas for families and friends to cheer on their superstars! Amenities include a large gravel parking lot that can accommodate 100+ vehicles, public washroom facilities, a picnic area and a designated camping area that can be reserved during events. The Stettler Sports Park is fully connected to the Stettler trail system.  Future developments include a playground, concession and a dressing room/bathroom facility.
We would like to thank our incredible sponsors for making the Stettler Sports Park a reality!
Stettler Sports Park is located at 6811-44 Avenue and consists of 4 ball diamonds, two soccer pitches and overflow camping. The sports park was made possible by grants from the Provincial Government of Alberta, the Town of Stettler and fundraising within the community.
Diamond #1- 60'6" Pitch and 90' bases
Diamond #2- 43' pitch and 60' bases
Diamond #3- 44' and 50' pitches and 60' and 65' bases
Diamond #4- 50' pitch and 65' base