Go back to news listings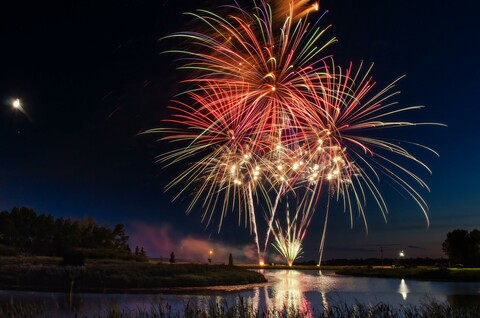 Canada Day Celebrations to Launch Summer in Stettler
The Town of Stettler is pleased to announce an exciting lineup of community events on July 1st, 2022 in celebration of Canada Day. Activities have been planned for both the day and evening in collaboration with multiple community partners.
Start the day at the Stettler Town & Country Museum, beginning with a $5 pancake breakfast from 9-11 AM. Explore what the museum has to offer throughout the morning with a scavenger hunt, agricultural demonstrations, and free museum admission.  From 11 AM-5 PM at the Stettler Town and Country Museum, activities include a craft station and puppet show hosted by the Stettler Public Library in addition to bouncy houses, bubble soccer, lawn games, face painting, free hot dogs and more, all sponsored by the Stettler and District FCSS!  Parking is available at the Spray Park Lot, County of Stettler Office, and Stettler Sports Park Lot, with tractor wagon rides available from the Sports Park to the Museum. In the case of inclement weather, these activities will be held at the Stettler Recreation Centre.
Festivities at West Stettler Park begin at 11 AM with a World Drum Circle honouring survivors and mourning the loss of our nation's Indigenous children. Participants are encouraged to bring their own chair and drum or percussion, if available.
Evening celebrations kick off at the West Stettler Park Gazebo with cupcakes at 7pm, and live entertainment provided by Loose Change at 8pm. The night will conclude with a dazzling fireworks display beginning at dusk. All nearby public parking lots, with the exception of the West Stettler Park West Lot, will be accessible.
Says Manager of Recreation & Culture Brad Robbins,
"We are very excited about the activities and events that have been put together to celebrate Canada's 155th Birthday. By bringing together various community agencies, we have created an entire family fun day of celebration that both residents and visitors of Stettler can enjoy."
For full details on the day's lineup of events, please visit: www.stettler.net/play/community-event-calendar