The Town of Stettler is host to a variety of events throughout the year, so mark your calendar!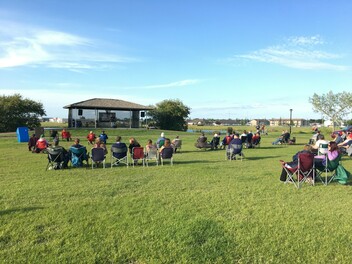 Entertainment in the Park
Entertainment in the Park is the annual live music series hosted by the Town of Stettler each summer! Every Wednesday evening in July and August, a new artist takes the stage at the scenic West Stettler Park Bandstand. Be sure to mark your calendars - there is no better way to celebrate summer than enjoying live entertainment and sunshine!
Neighbourhood Block Parties
A neighbourhood block party is an excellent opportunity for neighbours to get together, become acquainted, and have fun! Getting together with neighbours is not only enjoyable, but it also enables a renewed attachment among people in your area. As friendships grow, so do safe and caring neighbourhoods, and overall they become a more pleasant place to live.

If you plan on utilizing Town land (ie. at a park) or hope to barricade a street, then you will need the "Block Party Guide & Application" below. Please make use of any of these resources in planning your get together!
Neighbourhood Block Parties Files