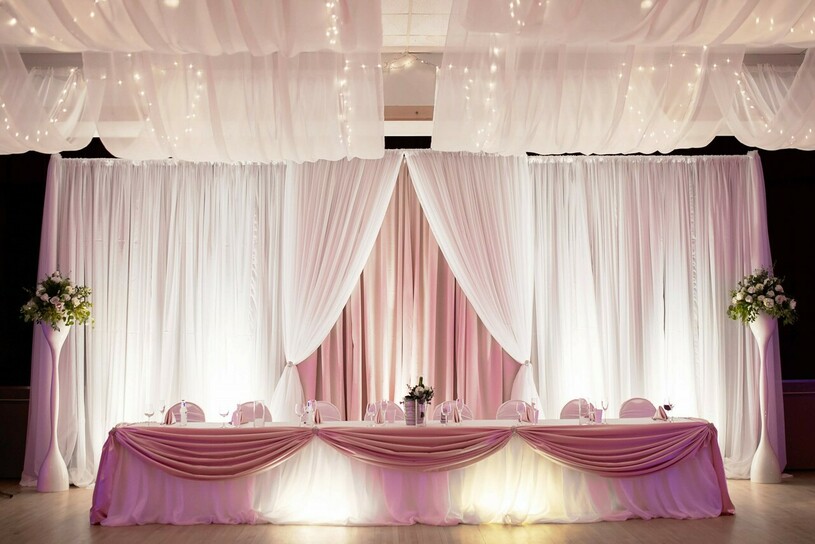 Community Hall
The Stettler Community Hall is located at 5101 - 46 Avenue. It provides an excellent setting for weddings, public events, cabarets and more. The hall is fully air conditioned with a complete kitchen, bar area and walk-in cooler, coat room and washrooms. Special to this hall is the stage area, lights and dressing rooms which make it an excellent location for theatre or concerts.
Recent renovations have improved the color scheme, an update of the kitchen counters and included new tables (mighty lights) and chairs.  The kitchen has also been restocked with additional kitchen ware.
The hall currently has 49 of the 60" round tables, 24 of the 6ft, 3 of 4ft by 3 ft and 49 of the 8' by 30" rectangular tables. 
Seating capacity is:
380 with tables and chairs (leaving dance area open)
500 with tables and chairs (seating on dance floor)
724 with just chairs
1350 standing room
If you are hosting over 500 people, the renter must provide extra washrooms.
***Please note that all overnight camping in the hall parking lot is subject to our overflow camping fee of $14.00 per night per trailer. If you are plugged into the outside outlets it is $26.00 per night.  These fees can be paid at the Stettler Recreation Centre at 6202-44 ave.
Please call the Parks & Leisure Services department at  403-742-4411 for bookings.
Community Hall