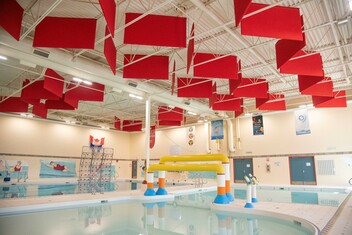 Stettler Aquatic Centre
For our pool schedule CLICK HERE 
Please Note
Due to the current COVID-19 restrictions enacted by the Government of Alberta, the Stettler Recreation Centre will be closed until further notice. Please stay tuned on our Facebook Page for further updates.
Lesson Structure During COVID-19

In accordance with Canadian Red Cross recommendations, Swim Preschool classes and Swim Kids levels 1-4 are currently parent-accompanied lessons.  Each child is required to have a parent or caregiver (someone 16 yrs or older from the same household) in the water with them. Instructors will not be able to physically assist students. Class sizes will be limited to allow for physical distancing. It is about ability of the swimmer not the age of the swimmer. We need to keep all people safe in, on and around the water.
For levels 5 and up, the parent or caregiver (someone 16 yrs or older) will have to sign them into the Aquatic Centre. No exceptions to this rule. If a Parent or Caregiver is not able, they will not be able to enter the Aquatic Centre and will be asked to forfeit their time slot. 

Contact Information:


Sonia DoddAquatics Manager