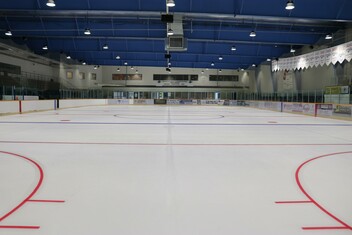 Arena
Our facility houses 2 - NHL sized (85ft x 200ft) Ice Surfaces.
The Red Arena contains fixed seating for 300 people.
The Blue Arena contains fixed seating for 1000 people.
Wheelchair accessible
In the off season, the floor surface is suitable for trade shows, lacrosse, roller derby, concerts and special events. 
Off season is April 1-September 30th.
New Stettler Recreation Centre Rules and Guidelines(updated February 9, 2022):
All Alberta Health Services (AHS) health and safety recommentations must be followed
All facility patrons must wear a mask while in the building (except youth while participating in activity). Masks are available at the front entry for any patrons requiring one.
All facility patrons should practice proper hand hygiene while in the facility, including befor and after on ice activities.
All facility patrons must screen for symptoms prior to entering the building. If a patron does not feel well, has a fever, upset stomach, headache or a cold (runny nose, sore throat, cough, etc) they must stay home.
Upon entering there will be a hand sanitizer station set up for all on-ice participants and spectators to use. Hand sanitizer stations are also available throughout the building.
Spectator attendance is restricted in the Blue Arena only to a maximum of 500 spectators.
Toonie Shinny Fridays
3:30-4:15 Under 11yrs
4:15-5:00 12-17yrs
$2.00 per person
Parent & Tot skating will continue and is Mon/Wed/Fri 10:00-11:30am $4.00/family at 1/3 capacity and social distancing is required between families.
Adult Skate Mon-Fri 12-1pm $4.00
Free Public skating is offered on Wednesday evenings from 6:45-7:45pm and Sunday from 3:45-5:00pm
November Public Skating sponsored by The Brick Stettler
December Public Skating sponsored by Kidsport 
January Public Skating sponsored by Canadian Tire
February Public Skating sponsored by Crop Management and Stettler GM
March Public Skating sponsored by WTS Enterprise
TO BOOK ICE PLEASE CALL Jacqui @ 403-742-4411
(Call for current rates)