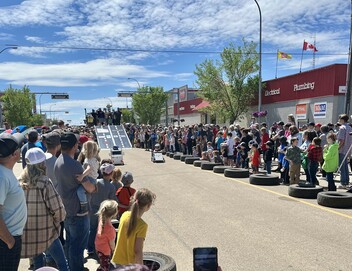 Our Town
Welcome to the Heart of Alberta!
Beyond our community's one-of-a-kind charm and vibrancy, Stettler is made for growth. Stettler's location makes it the economic hub of East Central Alberta. Just 80 kms west of Red Deer, Stettler is only a short drive to either Edmonton or Calgary (190 kms, and 225 kms, respectively).  Drumheller is 100 kms south of Stettler and, to the north, the City of Camrose is only 84 km away. This gives the Town of Stettler easy access to virtually all of the services and amenities that the province of Alberta has to offer. This trading area extends from the community of Alix to the west, all the way along the Highway 12 corridor to the Saskatchewan border. Being the hub of such a large trading area means that Stettler is home to many city style amenities, while still maintaining small town character.
Our community is complimented with passionate go-getters ready to get to work. Be it on the job or volunteering after-hours, the residents are here to make things happen. Our community values taking care of one another and ensuring a prosperous and sustainable future for generations to come. We get the big picture. Our workforce includes experienced and innovative tradespeople and labourers who are not afraid to roll up their sleeves and get their hands dirty.
Town of Stettler Data Dashboard