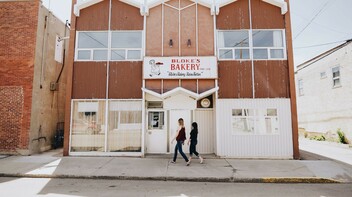 Economic Base
Stettler's location makes it the economic hub of East Central Alberta. Just 80 kms west of Red Deer, Stettler is only a short drive to either Edmonton or Calgary (190 kms, and 225 kms, respectively).  Drumheller is 100 kms south of Stettler and, to the north, the City of Camrose is only 84 km away. This gives the Town of Stettler easy access to virtually all of the services and amenities that the province of Alberta has to offer. This trading area extends from the community of Alix to the west, all the way along the Highway 12 corridor to the Saskatchewan border. Being the hub of such a large trading area means that Stettler is home to many city style amenities, while still maintaining small town character.
Oil and gas manufacturing and agriculture are at the core of the economy in the Stettler region. Stettler serves as home to many major supply and service companies geared towards these industries. Agriculture is the mainstay, which employs most of the rural population and supports a healthy agricultural service sector within the Town of Stettler. Agriculture is the greatest contributor to Stettler's economic stability and offers many opportunities. Stettler farmers produce such diverse items as dairy products, straw, hay, barley, canola, oats, corn, rye, honey, poultry, hogs, and cattle. As the town is in the heart of a very productive agricultural industry, there is not only great potential to provide numerous services to area farmers, but also to become involved in food-processing. There is also the continuing push to promote small local businesses in all economic areas in an effort to promote greater economic stability for the region.
Tourism is also a strong driver in the Stettler economy with many attractions including the ever popular Alberta Prairie Steam Excursions and the close proximity to Buffalo Lake. Alberta Prairie offers summer train rides and THE POLAR EXPRESS™ events in November and December seeing visitation from world-wide. Buffalo Lake attracts many families to the various campsite destinations and summer homes in the Summer Village of Rochon Sands and the Summer Village of White Sands, providing a home-away-from-home to kick-back and relax from the hustle and bustle. In addition, Stettler attracts sportsmen from all over with the abundance of hunting and fishing in the surrounding area.
Our community is complimented with passionate go-getters ready to get to work. Be it on the job or volunteering after-hours, the residents are here to make things happen. Our community values taking care of one another and ensuring a prosperous and sustainable future for generations to come. It is not uncommon to see business owners, managers and families collectively work towards updating equipment in the Stettler Hospital and Care Centre, building new playgrounds, hosting the Alberta Scotties Tournament of Hearts or banding together to help a family who has fallen on tough times. We get the big picture. Our workforce includes experienced and innovative tradespeople and labourers who are not afraid to roll up their sleeves and get their hands dirty.
For more information on the economy, including the local workforce, contact the Stettler Regional Board of Trade