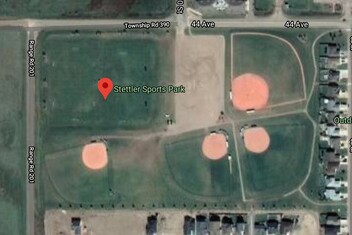 Stettler Sports Park
Located on the south-west corner of Stettler, the Stettler Sports Park is a great hub for all community gatherings. The Stettler Sports Park hosts 4 fenced baseball/softball diamonds, two soccer pitches and seating areas for families and friends to cheer on their superstars! Amenities include a large gravel parking lot that can accommodate 100+ vehicles, public washroom facilities, a picnic area and a designated camping area that can be reserved during events. The Stettler Sports Park is fully connected to the Stettler trail system.  Future developments include a playground, concession and a dressing room/bathroom facility.
We would like to thank our incredible sponsors for making the Stettler Sports Park a reality!
Diamond #1- 60'6" Pitch and 90' bases
Diamond #2- 43' pitch and 60' bases
Diamond #3- 44' and 50' pitches and 60' and 65' bases
Diamond #4- 50' pitch and 65' base