Go back to news listings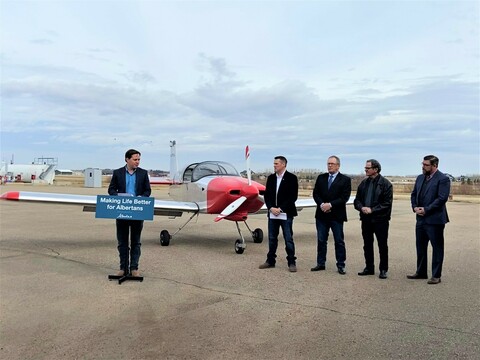 Stettler Airport Receives $1.48M Community Airport Grant
The Town of Stettler is pleased to announce that the Stettler Airport has received $1,481,947.50 in funding under the Government of Alberta's Community Airport Grant Program. Funding will be used to cover 75% of a runway rehabilitation, with the remaining 25% balance to be shared between the Town of Stettler and County of Stettler No.6.
The rehabilitation project will include partial base reconstruction of all traverse cracking, with milling of existing asphalt surface, new asphalt surface installation and line painting, for a total project cost of $1,975,930. Construction is expected to commence in Summer 2024.
Funding was announced at the Stettler Airport by Minister of Transportation and Economic Corridors, Devin Dreeshen and Minister of Agriculture and Irrigation, Nate Horner on April 25th, 2023.
Says Mayor Sean Nolls,
"On behalf of the Town of Stettler, I would like to thank the office of The Honourable Minister Dreeshen for this much-appreciated funding. We would also like to acknowledge and express our sincere gratitude for the advocation efforts of The Honourable Minister Horner.

The Stettler Airport is vital to our community, serving our commerce, agricultural and emergency health services needs. We are thrilled to have the opportunity to work with community partners to revitalize this facility and safeguard the future of aviation in our region.

We would also like to extend our thanks to our partners, County of Stettler No. 6 and the Stettler Flying Club. The Airport would not function without their contribution of maintenance and airport operation governance."