Go back to news listings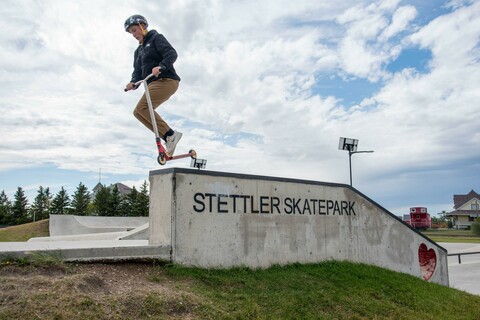 Second Phase of the Stettler Skatepark Expansion Approved
On January 19th, 2021, the Town of Stettler Council unanimously approved the expenditure of $223,000 for the second-phase expansion of the Stettler Skatepark, with $160,100.45 coming from the Town of Stettler 2021 Capital Budget and $62,899.55 contributed by the Stettler Skatepark Association.
This phase will include the addition of a bowl, among other smaller features.  The project is to be designed and executed by New Line Skateparks, an internationally renowned full-service municipal skatepark design and construction team.
Says Rob Eng, Design Operations Manager from New Line Skateparks:
After completing the Stettler Skatepark in 2014, New Line Skateparks is again proud to work with the Town of Stettler and local riders, and provide a welcome addition of a concrete bowl for the community to enjoy.  With feedback from the local skateboarding, biking, and scooter advocates, the design integrates the bowl feature with the existing skatepark to expand on the riding opportunities through the skatepark all the way through to the new phase.  We look forward to working through the detailed technical design and having the crew begin construction some time in 2021.
In 2019, the Stettler Skatepark Association entrusted their fundraised proceeds to the Town of Stettler, with the assurance that the funds would be used to expand the park. Since that time, the Town of Stettler has paired with local stakeholders to assess design options.
Mike Lawlor, chair of the Stettler Skatepark Association, states:
We are extremely excited to see the final phase of the skatepark completed! This has been a labour of love for all of us at the Stettler Skatepark Association for the last near-decade. After so much time of fundraising, events, charity galas etc., we couldn't be more grateful for the park's final stages to be coming to fruition. Skateboarding, scootering, BMX biking and all other extreme sports like these that require no firm schedule, no entry fees, and no team requirements are crucial now more than ever for kids. We are so grateful to see our town fulfilling and finishing the remainder of this project.
The expansion is tentatively scheduled for completion in 2021.