Go back to news listings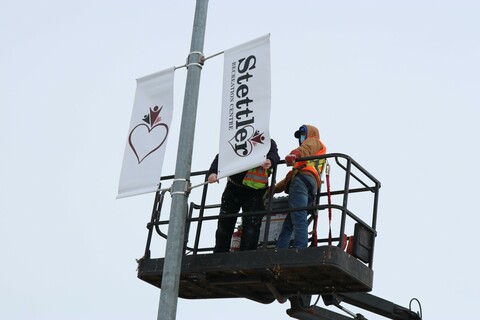 Stettler Recreation Centre Launches New Logo
The Stettler Recreation Centre is proud to launch their new logo as part of the Town of Stettler branch of affiliates.
The logo was designed in-house by members of the Town of Stettler's Corporate Identity Committee following the identified need for visual consistency between the Town of Stettler, the Stettler Regional Board of Trade and the Stettler Recreation Centre. The new logo features the same text and heart icon seen in the Town of Stettler and Stettler Regional Board of Trade logos, which aligns with the Town of Stettler's slogan as "The Heart of Alberta."
This particular logo differs from its two counterparts with the addition of three symbolic figures emerging from the heart. These celebratory figures differ slightly in appearance, representing the facility's inclusivity, diversity, and accessibility for each demographic in our community. The facility houses the Aquatic Centre, Fitness Centre, Stettler Public Library, the HUB, and two ice sheets, meaning that there is an activity available for people of every age and ability at the Centre. Says Brad Robbins, Manager Recreation and Culture: 
"Our facility is truly one of a kind, offering both residents and visitors of all ages a space to gather, whether it be for a specific sports activity, to meet up with family and friends or to relax in a warm and welcoming space. What sets our facility apart from other similar facilities is that at any given time you could witness cards being played by seniors in The HUB, a Mom & Tot swim lesson taking place in the pool, a children's reading program happening at the Stettler Public Library and a hockey game all taking place at the very same time within the building."
The new logo can be seen in key signage throughout the facility, as well as on banners in the parking lot. In addition to the new logo, all Stettler Recreation Centre staff members will be easy to identity in their new blue branded team apparel.
"We are very excited about the new logo and brand for the [Centre] and what it represents," adds Robbins. "Everyone belongs at the Stettler Recreation Centre."
For more information about the Stettler Recreation Centre's services, please visit www.stettler.net/play