Go back to news listings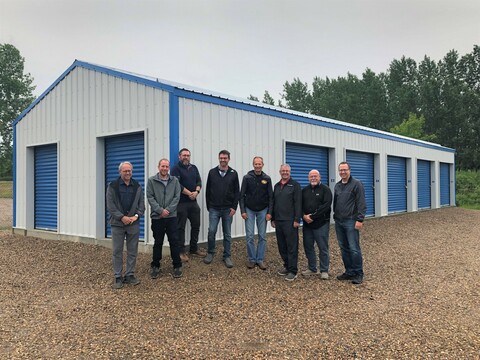 Tax Incentive Bylaw Benefits First Recipient
The Town of Stettler Council took their Regular Meeting of Tuesday, June 20th on the road to visit the first recipient property of the Tax Incentive Bylaw. The owner of the new storage unit, James Dadensky, was awarded $723 under the bylaw, funded from a 100% rebate of the municipal tax paid and a refund of the development permit fee.
Says Mayor Sean Nolls,
"It was great to see a Stettler resident receive the benefit of our Tax Incentive Bylaw; this incentive is a great way to encourage development and growth in our community while rewarding the landowner for reinvesting in their property and our town."
Bylaw 2147-22 can apply to any permanent, non-residential development including new construction, revitalization, redevelopment, or expansion to an existing business that will generate a minimum of $5,000 to increase the new construction assessment. The tax incentive applies solely to the increase in assessment amount.
Applicants can visit the Town of Stettler Office or website to fill out the initial form, after which the application will be held until the project is complete. The Town of Stettler will then review the application and allow the contracted assessor to determine the assessment increase resulting from the project.
Says Angela Stormoen, Planning & Development Services
"Every application will be different, so we encourage anyone interested in participating in the program to contact our department to discuss their project."
To view the application form or to learn more about economic development in our community, please visit: https://www.stettler.net/work/economic-development
Contact: Angela Stormoen
Planning & Development Services
403-742-8305