Go back to news listings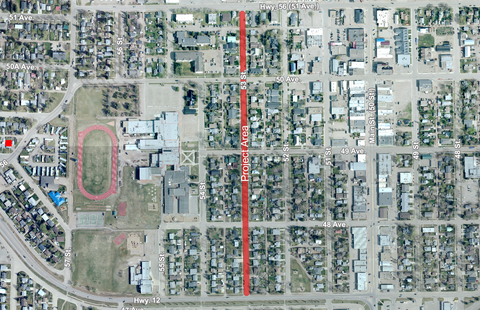 Town of Stettler Breaks Ground on 53rd Street Water Main Replacement
As of May 24th, 2022, work on the 53rd Street Water Main Replacement has commenced. Throughout the dual phase construction process, the cast iron water main and lead water services on 53rd Street between 48th – 51st Avenues will be replaced, with a total project budget of $950,000.
Throughout the next three months, the underground portion of the project will be completed, allowing for trench settlement to occur over the winter. Additionally, the intersection of 50th Avenue and 53rd Street will be paved in 2022 due to the high volume of traffic seen in the area. In 2023, the project will conclude with final trench paving. Although construction has been designed to minimize traffic impacts, residents may experience temporary interruptions on Veteran's Way and 50th Avenue in June and July.
The replacement of this major water main aligns with Health Canada's updated regulations regarding lead and cast-iron pipes. Says Director of Operations Melissa Robbins:
"The Town of Stettler is focusing efforts to reduce the amount of lead and cast-iron water mains in our community. This year, 53rd Street will have all cast iron water mains and lead services replaced up to property lines to help keep the water provided to homes as safe and healthy as possible."
The Town of Stettler will continue to provide updates on traffic impacts as they arise. For further information on the project and how our community is managing lead and cast-iron pipes, please visit: https://www.stettler.net/the-town/seasonal-construction .